Hitachi ABB Power Grids Named a Leader in Asset Performance Management for Utilities
Read the IDC MarketScape 2020-2021 vendor assessment to learn why Hitachi ABB Power Grids is positioned in the Leaders category in Asset Performance Management (APM) for Utilities. Learn more about our Lumada APM solution.
Today's Asset Performance Management (APM) solutions benefit from digital technologies such as the Industrial Internet of Things, artificial intelligence, and machine learning. APM has evolved to enable utilities to make better informed decisions and optimize their assets. When combined with Enterprise Asset Management (EAM) and Field Service Management (FSM), APM breaks down organizational silos and drives unprecedented operational efficiency, asset performance, and cost savings. Hitachi ABB Power Grids' solutions emphasize these areas and can support utility customers as they navigate their transition to a more sustainable energy landscape.
- John Villali, Research Director, Energy Insights, IDC
The report highlights three main strengths of Hitachi ABB Power Grids:
Deep industry expertise in power & utilities
Positioned for growth and broader geographic coverage in joint venture with Hitachi
Innovation opportunities and synergies with Hitachi's digital portfolio for greater value-add to customers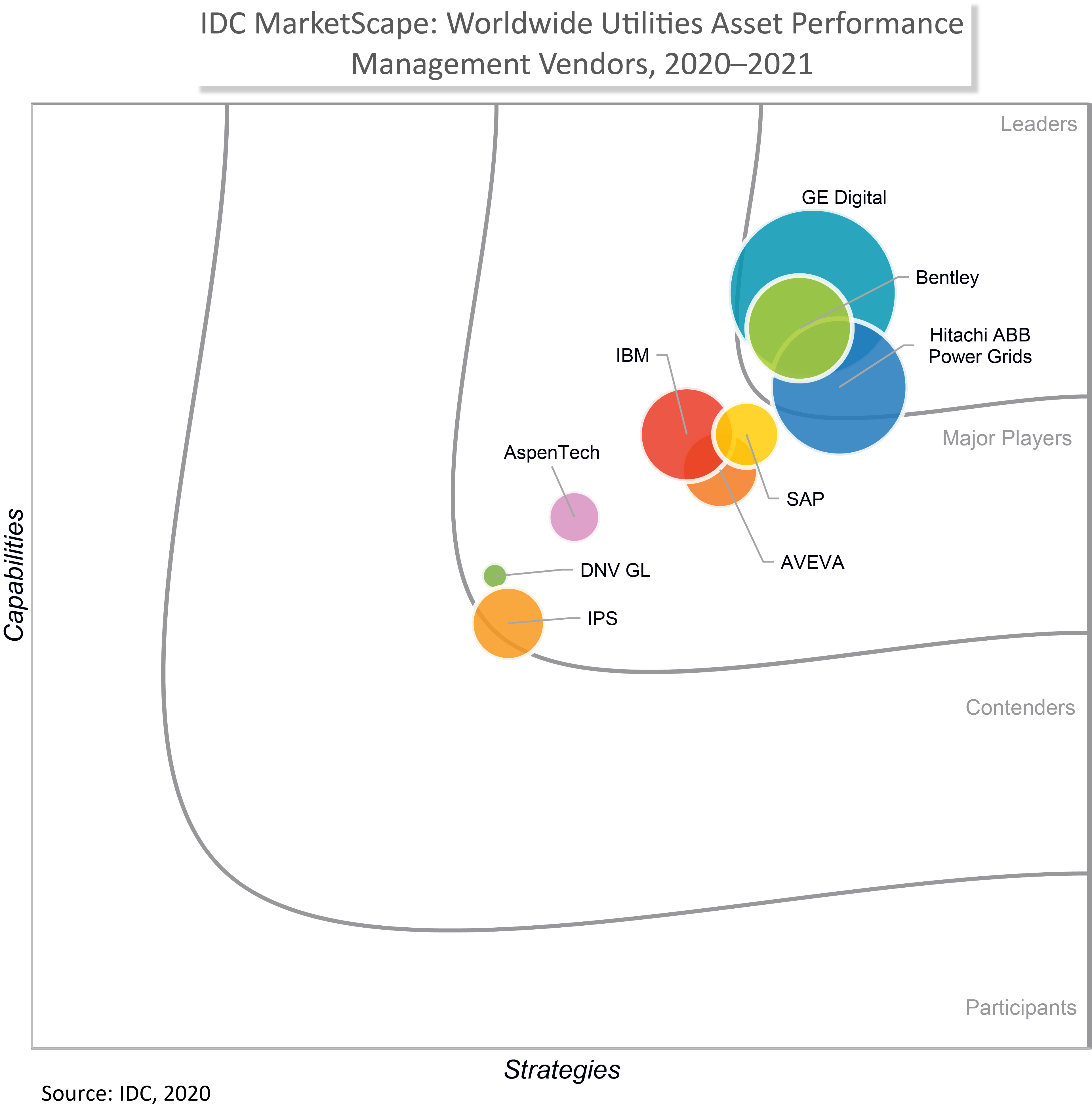 IDC MarketScape vendor analysis model is designed to provide an overview of the competitive fitness of ICT suppliers in a given market. The research methodology utilizes a rigorous scoring methodology based on both qualitative and quantitative criteria that results in a single graphical illustration of each vendor's position within a given market. The Capabilities score measures vendor product, go-to-market and business execution in the short-term. The Strategy score measures alignment of vendor strategies with customer requirements in a 3-5-year timeframe. Vendor market share is represented by the size of the icons.
Source: IDC MarketScape: Worldwide Utilities Asset Performance Management 2020–2021 Vendor Assessment, (#US46211820), December 2020) © IDC 2020
Legal disclaimer: Use of IDC MarketScape graphic or excerpts do not imply sponsorship, endorsement, or affiliation with IDC. IDC MarketScape graphic is licensed for use by Hitachi ABB Power Grids, IDC reserves all rights.